With Danai Gurira's exit as Michonne just around the corner on AMC's The Walking Dead, it looks like the katana-wielding badass' swansong will bring back one of the show's most-hated characters. The Walking Dead is no stranger to resurrecting the ghosts of someone's past for their final episode, and now, it looks like Michonne will be haunted by Andrea.
Way back when, the fan-favourite comic book character of Michonne was introduced in The Walking Dead's Season 2 finale. After it looked like Laurie Holden's Andrea was about to meet her maker at the jaws of a hungry horde of walkers, Michonne came to save the day. It started a beautiful fromance between the pair that lasted until Andrea's shock exit in the Season 3 finale.
Now, Comic Book reveals Andrea will be back (in some form) for Michonne's final episode. According to the site, Gurira's final episode will include archive footage from Michonne's debut and reuse the Andrea scene. It's unclear whether Holden herself will appear in any new scenes, but remember how the likes of Chad Coleman, Michael Cudlitz, Jon Bernthal, and Sarah Wayne Callies all popped up after they shuffled off this mortal call.
Speaking of Callies, it's a close-run race on whether Lori Grimes or Andrea is the show's most-hated character. Similar to her role as Dr. Sara Tancredi on Prison Break, The Walking Dead fans couldn't seem to warm to Callies' portrayal of Rick Grime's sneaky missus. However, it was Andrea's Season 3 arc that really sealed the character's fate.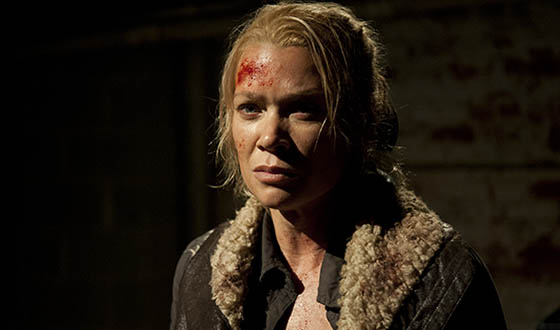 While Andrea of the comics went on to become a formidable force and the new love interest of Rick, her TV counterpart became a weak-willed puppet of David Morrissey's Governor.