Stranger Things isn't likely to appear on our screens for another two years, but it hasn't stopped endless amounts of speculation about what's in store – especially when the show's writers use their official Twitter account to tease fans about what's to come.
If you follow the Stranger Things writers on Twitter then you'll know they tend to use 80s songs and film/tv references as a code to reveal tidbits of information about what's to come for the D&D-loving gang, and the latest tidbit hints that everyone's favourite girl is about to go 'to the dark side'.
The writers gave the lyrics to "Cosmic Love" by Florence and The Machine, which goes, "And in the dark, I can hear your heartbeat. I tried to find the sound but then it stopped, and I was in the darkness, so darkness I became."
The song is clearly about someone who has something sad happen to them, so they lean more towards the darkness – and theorists on Reddit have deduced that they believe this could only be aimed towards Eleven.
Millie Bobbie Brown also once claimed that she wouldn't be against playing a villain, but that it would make her sad to play Eleven as a villain, because she's such a loved character.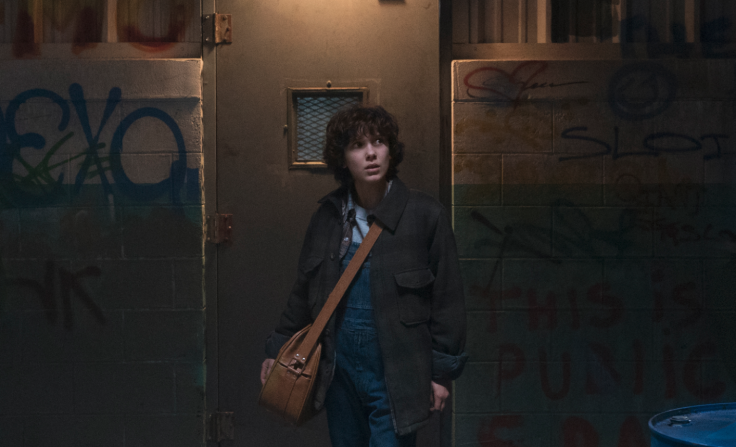 "I'd love to be the villain, but then I also wouldn't because Eleven is perfect. It would suck," Brown told Elle.
To be fair though, considering the OTHER theory that 'The American' is actually Dr Brenner (because if you remember, Kali did say that she knew he was still alive), hearing about his return could trigger her into some kind of evil, angry human – and especially if you partner that with the teen angst her character is OBVIOUSLY going to be feeling (alongside the grief of losing Hopper), Eleven turning evil would actually make a lot of sense.
PS.. Here are the full lyrics to the Florence And The Machine song if you want to try and come up with your own theories.
A falling star fell from your heart and landed in my eyes I screamed aloud, as it tore through them, and now it's left me blind
The stars, the moon, they have all been blown out You left me in the dark No dawn, no day, I'm always in this twilight In the shadow of your heart And in the dark, I can hear your heartbeat I tried to find the sound But then it stopped, and I was in the darkness, So darkness I became
The stars, the moon, they have all been blown out You left me in the dark No dawn, no day, I'm always in this twilight In the shadow of your heart I took the stars from our eyes, and then I made a map And knew that somehow I could find my way back
Then I heard your heart beating, you were in the darkness too So I stayed in the darkness with you
The stars, the moon, they have all been blown out You left me in the dark No dawn, no day, I'm always in this twilight In the shadow of your heart
[Featured Image Credit: Netflix]