Court documents have reportedly claimed that Khloe Kardashian cheated WITH Tristan Thompson.
If you don't already know the story, Tristan Thompson and Khloe split earlier this year after it was revealed that he'd 'kissed' Kylie Jenner's best friend, Jordyn Woods.
This is the second time that Khloe has caught Tristan 'cheating', and as a result she has ended her relationship with the father of her child.
However, these court documents claim that Khloe and Tristan started dating in 2016, while he was still with his ex Jordan Craig – and she was pregnant with their son, Prince.
However, Khloe has always denied that, and insists that their relationship started after he and Jordan split.
These court documents, obtained by RadarOnline, show that Jordan doesn't feel that is the case.
The website reports that Jordan says in the documents: "Tristan insisted he would change for our family, and tried to get back together on numerous occasions."
She continued: "Every day several articles were published worldwide mocking my new unfortunate reality and my pregnancy would now become one of the most popular gossip headlines due to the woman Tristan was now publicly dating during my pregnancy."
Khloe has now taken to Instagram to share 'her truth' regarding the situation.
She wrote on her story: "I'm disappointed about even needing to post this, but… I need to say my truth. Take it as you will,
"My truth is: I met Tristan because HE CHOSE to go on a blind date with me. A mutual friend set us up,
"After going on some dates, Tristan told me that he had an ex that was pregnant. Obviously, I was reluctant about us continuing to date or start a relationship."
Khloe says Tristan "pleaded with me that the relationship was over long before we met" and "had me talk with his most inner circle."
Khloe Kardashian was recently called out by fans on social media for promoting an 'insulting' meal replacement shake on her Instagram feed.
Her caption read: "Ok you guys…I've been putting in work, adding in @FlatTummyCo meal replacement shakes and I'm seriously feeling so good. My energy is up, my cravings are controlled and I actually feel like I'm a total tummy knockout. You need to go check them out while their 30% OFF sale is on. PS: how CUTE is this shaker bottle?!"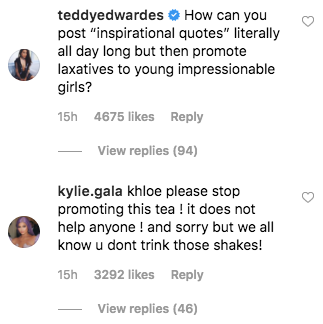 Well, fans weren't very impressed with the post, saying that for someone who posts inspirational life quotes hinting that everyone should find true happiness in themselves, it's a bit 'hypocritical' to then promote a weight-loss shake for a paid promotion.
They've also accused her of probably not even trying the product before she was paid for it, and said that is could be harmful to any young impressionable girls who would be seeing it pop up on their newsfeed.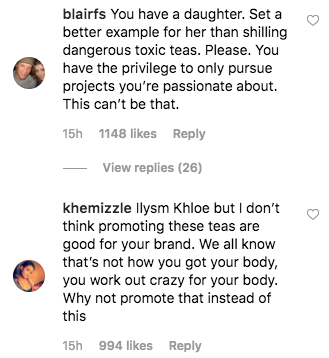 Others blasted her for saying the promotion of 'skipping meals' and eating shakes were also not good for her 'role model' status, and asked her to think a bit more cleverly about what she posts in the future.