It's not much longer until series 15 of Grey's Anatomy will be back on everyone's screens, but if you can't wait until it comes back then you're in luck, because it appears some news on what the potential storylines will be has been leaked.
As with many of these, if you're not looking for spoilers at all, or you're not currently up to date with the most recent series then I'll give you all of five seconds to quickly click off this article. If not, continue on with me and find out what the producers have in store for the characters on their 15th season on air.
While this season has previously been touted as 'The Season Of Love', it turns out our beloved leading lady will NOT be one of the characters finding an immediate love interest in this series. Meredith has bigger things to worry about than who she's going to snuggle up to after a long day in surgery.
ABC entertainment president Channing Dungey said at the Television Critics Association summer press tour that Meredith is going to be instead focusing on a personal story arc that surrounds the idea of family, and her background.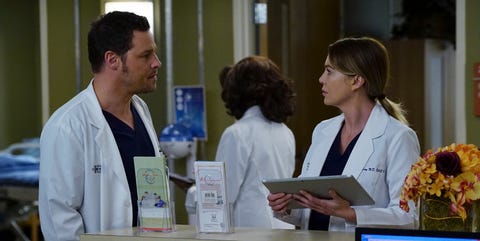 Speaking to 
TVLine
, the ABC president said: "Meredith [is going to] have a new trajectory that is more focused on who she is as a single mother and surgeon [including her investigation] into a medical condition that is very close to her own family background and history,"
"Ellen (Pompeo, who plays Meredith) has spoken very loudly about how she doesn't want all of Meredith's adventures to be romantic ones."
Pompeo has also been very vocal about how annoyed she was about the love story between her character and Dr. Nathan Riggs (played by Martin Henderson), very quickly pushed through not long after losing her co-star Patrick Dempsey (who played Dr. Derek Shepherd).
"The truth is, the ink wasn't even dry on [Patrick Dempsey's] exit papers before they rushed in a new guy," she said at the time.
"I was on vacation in Sicily, decompressing – it was a long working relationship and it was a tumultuous end, and I needed a moment to just chill with some rosé – and they're calling me, going, 'What do you think of this guy?' 'What do you think of this guy?' And they're sending pictures.
"I was like, 'Are you people f**king nuts? Why do you feel that you have to replace this person?' I couldn't believe how fast the studio and the network felt like they had to get a penis in there."
To be perfectly honest, as an avid fan of the show I have to agree that while I would love to see Meredith have her happily ever after following Derek's death, Ellen Pompeo is right. A woman's happiness doesn't just derive from who she's snuggling at night after a long day in surgery – her character is a solid working mum with plenty of interesting story avenues to go through before throwing a man into the mix.
We'll just have to wait until the show returns on 27th September to see who's been chosen to be infected with the loooove bug.