If you've been a fan of Grey's Anatomy for a few years now, then you'll know that Jo Wilson (now Karev) had a bit of a troubled childhood, living in her car and having to scrimp her way into her medical degree.
[WARNING THERE WILL BE SPOILERS IF YOU AREN'T UP TO DATE WITH THE LATEST EPISODE, 'AND DREAM OF SHEEP'. DO NOT GO FURTHER IF YOU DON'T WANT THE EPISODE TO BE SPOILED. YOU'VE BEEN WARNED]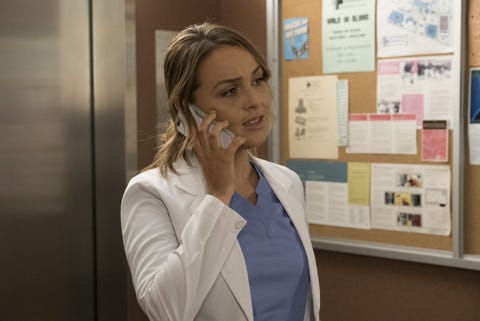 [Photo Credit ABC]
Despite the multiple rumours that Jennifer Gray would be playing Jo's estranged parent, many fans were shocked to see that she ended up being Betty's mum, but towards the end of the most recent episode, when Dr Casey Parker had a photo of  who we suspect her mother be revealed that Vicky (Jo's mother) would be played by none other than True Blood's Michelle Forbes. Forbes was already confirmed to have joined the cast a few months back, but until the reveal on the show there had been no indication who she would be playing.
Camilla Luddington, who plays Jo previously said that there would be a very likely chance that we would be meeting her character's birth mother in the upcoming series, saying: "I have heard that there is a strong possibility that will happen this season, which is very exciting. I don't know the context of how they'll end up running into each other [but] that's a huge deal for her."
Very exciting. What do you think the storyline will be like for the character going forward? One thing is certain – it's not going to be plain sailing for Jo and Alex – which is a shame considering the happily married bliss they've currently been enjoying. Oh the joy of soap-world, the drama just never ends.
[Featured Image Credit: ABC]