Queen Beyonce is back, and she's showing the world her new 'do. Don't worry though, she hasn't done anything TOO wild to her iconic tresses, she's just decided to go a little bit darker than we're all normally used too.
Many fans rushed to compliment the singer on her new hairstyle, with even fellow celebrities commenting on how much it suited her.
Model Ashley Graham wrote: "Love the dark hair!", while Winnie Harlow also commented: "OK brunette."
She looks amazing! Beyonce isn't the only person who has gone for a bit of a different look lately, let's take a look at some of the hair transformations of the last few months.
Riverdale actress Camila Mendes recently debuted a new do' on social media after cutting her signature dark black hair, and dying it lighter brown.
Camila posted a photo of her new haircut to her Instagram stories, writing "7 hrs later" above a selfie with her hairstylists. "Back to brown à la @ColorByMattRez" one of her captions declared, while another read "with a fresh cut à la @BuddyWPorter."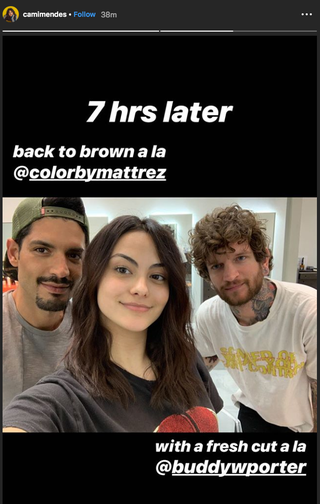 Porter also posted a pic to his Instagram, writing, "If I'm in a salon until midnight, I'm glad it's with these two." I mean, who doesn't get their hair done at midnight?
Both women look FIRE.