If you've got a penchant for poltergeists and are looking for your next horror heroine to fill your Instagram feed, welcome to the harrowing world of Cherish Heath.
Turning her love of all things loathsome into a fan-favourite Etsy shop, Cherish is a gorehound who's always on the hunt for horror projects. This Wisconsin-based artist fancies herself as something of a Linda Blair — which giver her artwork a macabre twist that's straight from our dreams and into our nightmares.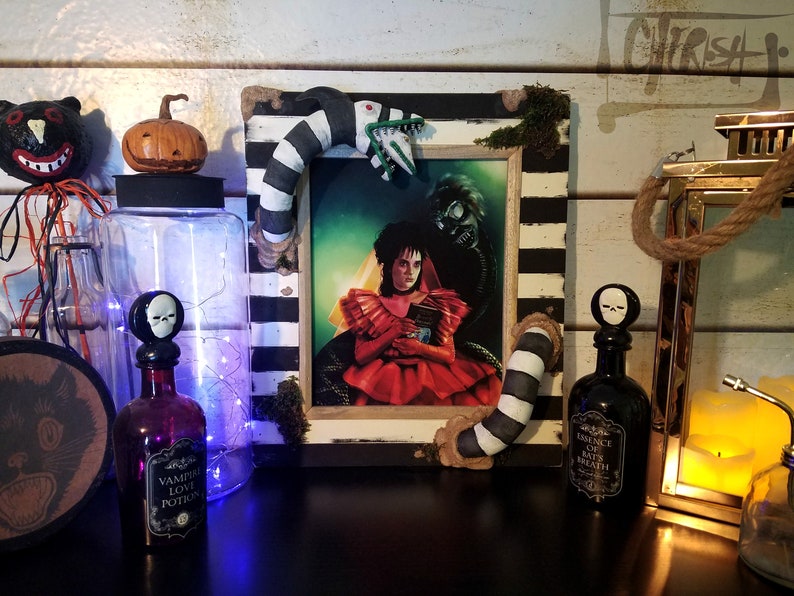 Graduating with a Batchelor in Fine Arts (with an emphasis in painting), Cherish has gone from painting Pennywise and Lydia Deetz to creating tiny PopSockets that homage everything from The Shining to A Nightmare on Elm Street, Ghostbusters to Beetlejuice.
We've sad down with Cherish to find out a little more about what makes her tick.
Hey Cherish, thank you for talking to us. So, what is it that draws you to horror?
Thank you for having any interest in what I have to say [haha]. I've always had an obsession with all things spooky. Halloween was my favourite holiday growing up and with that comes all of the fun, scary themed things that eventually evolved into everything horror.
My love for the genre came when my mom bought me a VHS copy of The Exorcist. I think I was in the 4th grade. I watched it alone in my bedroom while she cooked dinner and I'll never forget the way that film made me feel.
Very little compares to that rush one gets from getting scared; except perhaps creating things with the power to catalyze those kinds of emotions in others.
What was your first creation?
For art, I've just always made things. I was certain as far back as kindergarten that I was going to be an artist. So I can't exactly pinpoint my first creation. As for creation that deals with horror, I was very fond of writing terrible scary stories on my mother's old typewriter when I was in the second grade. Haha
I know you do your own paintings, but what's the deal with the PopSockets?
Those came completely by accident. I was on my own quest to find a PopSocket that fit my particular interests and was not having any luck at the local department stores or online. Very rarely do I make myself anything, so I thought this was the perfect opportunity to make something that would make me smile daily.
Something I could take with me that reminded me of all of my favourite things (also something that I could justify putting time into because it was also functionally useful to me), so I made myself a Shining themed PopSocket. I posted a photo of it on Instagram and it was a hit. It seemed like other people had been looking for something similar as well.
Do you have a favourite creation you've made?
I don't know that I have a specific favourite, but I do love creating more mixed media pieces. Like the custom frames or the PopSockets. It's oddly meditative focusing on small details and pushing myself outside of my comfort zone when it comes to my skillset.
I try to make each new project an opportunity to learn a new technique. So any piece that allows me to do that instantly becomes a favourite haha.
On average, how long do pieces take to make?
Oof. This is a tough one to answer. They can range from hours to days. Each piece varies. Thankfully my customers are so patient and understanding. They all know that each piece is handmade with lots of love.
My goal has always been to make people happy with the things I make. So I can get a bit obsessive with wanting things to be just right. I'm not hard-pressed to keep track honestly, but definitely hours to days.
Can you give us a tease of what's to come?
Definitely more horror and more PopSockets. The list keeps growing. I'm having trouble keeping up with everything I want to make haha. There will be more Christmas/Holiday themed ones in the coming month. That way all of the spooky babes out there can sport their love of horror in a festive way.
I'm also looking into exploring dioramas in the coming year. Anything that puts the viewer into an atmosphere.
If you could meet any horror icon, who would it be?
Oh man! All of them. If I had to choose just one though, it would be Linda Blair. I admire how she handled such an intense role at such a young age and the cultural impact it had at the time. Not to mention she's an advocate for animal rights. Total badass.
Finally, what's your favourite horror movie?
The Exorcist of course! It's the film that started it all.
If you want to check out Cherish's work