If you want a 'slice' of horror history, an antiques store in California is selling a huge haul of Dexter props. For those who want to immortalise the macabre legacy of Dexter Morgan, now they can — without paying those extortionate online auction prices.
Running from 2006-2013, Showtime's slick crime drama cast Michael C. Hall as the frankly terrifying serial killer. While Dexter had all the attributes of a mild-mannered forensic scientist, he was harbouring a dark secret. Oh, and a plastic-wrapped room full of bodies.
There were A LOT of deaths across Dexter's eight-season run, meaning the props department had its hands full when it came to creating the various grisly scenes.
Posting on Weird Secondhand Finds That Just Need To Be Shared, Sydney Stanley (great name by the way) found a horde of Dexter props at California's Antique Adventures in Ventura. The caption reads: "Are you in need of props from the hit series Dexter? Well, look no further!
"These honestly creeped me out a bit, but I kept walking back to them!
"Along with the body parts are 3 pairs of glasses worn by Masuka on the show, other than that none of them were specifically labeled (though I feel like the polished fingers are significant and someone could probably find out who's hand that is)."
As the original poster reminds us, the props start at around $30 and go up to $310 for the terrifying severed blonde head. With C.S. Lee's Vince Masuka becoming a fan-favourite of Dexter who wouldn't want to own his glasses and a piece of the acclaimed TV series?
Back in 2014, DexterCorner created an auction site to sell props, with proceeds going to the Leukemia & Lymphoma Society. It's unclear where this bumper batch of body parts came from, but it looks like Antique Adventures is well worth a rummage.
Replying to the post, one happy hunter wrote, "Oh this is fucking COOOL!!! The Ice Truck Killer hands ahhhh". Another gushed, "I can't thank you enough. I just called the store and bought some mail-order body parts!"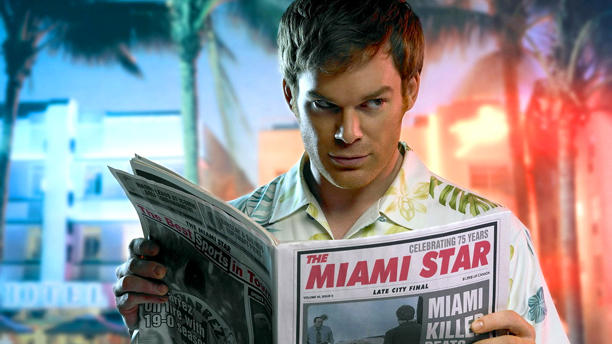 Someone simply wrote: "NICE HOME DECOR FOR ME". However, one unconvinced skeptic wrote, "These don't look realistic at all, movies and TV are really magic".
Based on Jeff Lindsay's book series about the calm and collected Dexter, the show remained popular and rounded off with a controversial eighth season. Even if Dexter went out with something of a whimper rather than a bang, fans would be mad to miss these props. Well, looks like I'm booking a plane to California.
[Featured Image: Showtime]