These are indeed dark times, but in a rare moment of good news, Bruce Campbell has officially brought back Ash Williams — to battle coronavirus. As the world heads into lockdown to combat COVID-19, Campbell is dusting off his chainsaw and adding another appearance as the Evil Dead favourite to his CV.
Bruce has become synonymous with playing Ash since the character's debut in 1981's The Evil Dead. Since then, he's reprised the role for 1987's cult classic Evil Dead II, the criminally underrated Army of Darkness in 1992, and Starz series Ash vs Evil Dead.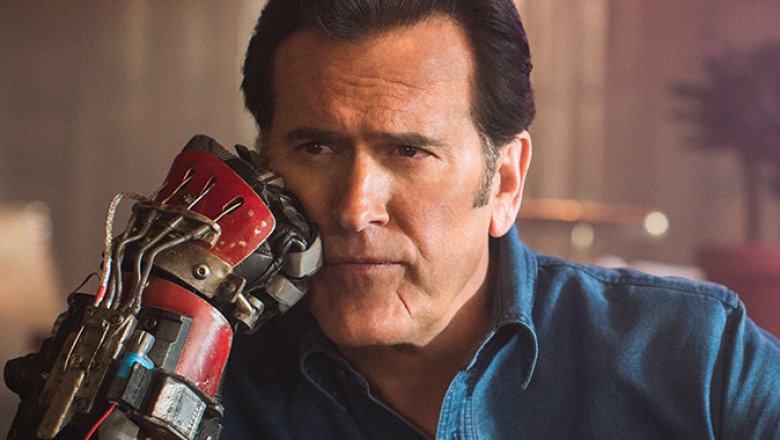 Since Season 3 came to an end in 2018, Campbell claims he's retired Ash. Well, that didn't last long, did it? From comic conventions to rumours of Sam Raimi returning for Evil Dead 4, we're not buying that Campbell will ever be done playing Ash.
Returning to play the square-jawed hero for a public service announcement, Campbell took to Twitter with a Memoji for his fans. He gave coronavirus a stark warning, and believe me, this is one guy you don't want to be messing with.
An important message… pic.twitter.com/So6zy6dwHB

— Bruce Campbell (@GroovyBruce) March 24, 2020
In the clip, Campbell is sporting Ash's new silver streak from Ash vs Evil Dead. He warned people to stay indoors and stop panic buying as only Ash can. "Alright, you primitive screwheads. Listen up: there I was, minding my own beeswax on my back porch in retirement, and some goddamn, a****le virus bullsh*t comes rearin' its ugly head," said Campbell "Shop smart, lay low, don't make me come back."