Aunt Bessie's absolutely kills it when it comes to Yorkshire puddings, so it would only make sense that they jump on the trend that has swept the nation, and bring out their own versions of the VERY loved Yorkshire pudding wrap.
They're only available in Morrisons at the moment, and they cost just £1.50 for two. Bloody bargain, if I do say so myself.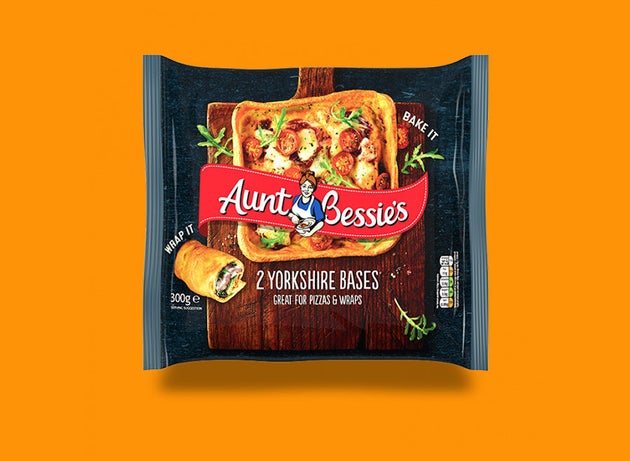 If you're the kind of person who pops to the shop on their lunch break to grab a meal deal, then you're probably getting a little bit bored of the same options over and over again. Right? Right.
Morrisons has brought out an absolute game-changer and it's pretty mad. They've done away with the bread and replaced it with a giant Yorkshire pudding. You know like all those viral vids that go round just before Christmas? There's usually a hipster stall that is selling an entire Christmas dinner in a wrap. Well Morrisions has got wise to this and made its very own version. Brilliant.
Look how happy this guy is with his Christmas jumper and hat out of a cracker?
The Christmas Yorkshire Pudding Wrap comprises of turkey, pork sage and onion stuffing, cranberry sauce, sweet cured bacon, fresh spinach and mayo.
Ben White, Morrisons sandwich expert said: "Everyone loves Yorkshire pudding and everyone loves Christmas dinner, so we are combining the two to create a modern classic. We're looking forward to hearing what customers think but we hope that they'll love it."
If you want to get your paws on the wrap, it's available now and will set you back £3.00 if you buy it individually. Luckily for us, it will be part of Morrisons Food to Go meal deal.
Lidl has heard the prayers of those who don't fancy a wrap for lunch, and has brought out a supermarket box version where you can eat your very own at home. What a bloody lifesaver.
Lidl's wrap contains British turkey, Cumberland chipolata sausages, gammon, pork and sage and onion stuffing all wrapped up in one giant pudding. Oh, and it's only £7.99, which may seem steep to some people but let's be honest – can you really put a price on true happiness?
It's not just Lidl that's sorting you out this festive season, as Marks and Spencers are just absolutely killing it in the food game at the moment, and when I tell you all about their latest offering you're going to completely agree with me.
They're known for bringing out some of the tastiest (albeit slightly pricier) treats in the nation, but they've truly outdone themselves with this latest sweet treat. Cookie lovers, I think you're going to absolutely love this.
The supermarket retailer has just announced the release of their triple chocolate cooking pudding, and guess what – it's GIANT, and it's only £4. No seriously, how good does that look? It's perfect for satisfying all your sweet treat cravings.
It's a milk, dark and white chocolate cookie pudding on a layer of hot chocolate fudge sauce. I'll pause while you stop yourself from drooling, but I did forget to mention that you can also eat the cookie pudding hot or cold.
The product description claims that: "It's gooey on the inside and crunchy on top and is packed with chocolate chips." Sweet baby Jesus.
M&S aren't just killing it in the cookie department, however. Another popular opinion: caramel shortbread biscuits are quite possibly one of the most more-ish, delectable treats that has ever graced the planet, second to cookies, obviously.
I don't know about you, but I can easily polish off one of those Thorntons packs in about an hour, and yes I'm not ashamed, after all they're DELICIOUS. They're just so creamy and the caramel is the perfect level of soft, but then you have the slight crunch of the biscuit and the chocolate at the bottom that you end up with one decadent sweet treat. Ugh, I'm practically salivating just thinking about them.
While we all know that the biscuit itself is pretty damn tasty, have you ever wondered what it would taste like as an alcoholic beverage? Think Baileys, but most likely smoother and creamier and instead of it tasting like Irish cream, it tastes like caramel shortcake. Right, now that you've got that picture in your head, allow me to tell you that Marks and Spencer has officially made it a reality with their latest alcoholic offering.
The 35cl bottle will only set you back £8, making it the perfect stocking filler for adults. I don't know about you, but I'm about ready to run on down to M&S and go and buy out the entire stock, just to make sure I've got more than enough when it comes to Christmas.
If you're also looking for exciting treats in the run up to the festive season, then I can officially confirm that Aldi is back at it again with a game-changer of a mince pie – salted caramel. Can I get a "HELL YES"?!
The popular pies were first released last year, and everyone went mad for the tasty treat.
There's an annoying caveat though. Last year, a pack of six was £1.69 and this year they've gone up to £1.99. Sacrilege. They're available in-store as of November 1.
If you're in the mood for more Christmas cheer, you may also be interested in this festive gin. While there's always time for gin, there's something seasonal about sitting by a roaring fire and having a sip of Mother's Ruin. As the nights get colder and your parents start rummaging for Advocaat in the back of the drinks cabinet, we think you should suggest Christmas pudding gin instead.
Pink gin, parma violet gin, and even unicorn gin (no unicorns were harmed in the making of this), but what about bottling all the cheer of Christmas?
Firebox is behind the genius invention with a limited edition batch of Christmas pudding flavour Unicorn Tears Gin. Available to pre-order for £19.99, purveyors of pudding can pick up 20cl of this Christmas concoction to put under the tree or place in their own drinks globe.
The site asks gin guzzlers to think of "warming dried fruit, drizzled with cinnamon, cloves, sugar and treacle." If you aren't already licking your lips in anticipation, you should be. To make Christmas pudding gin that little bit more special, it's even infused with shimmering silver powder to add to the unicorn magic.
Gin advent calendars seem to be all the rage at the moment, but it's not quite the same as opening those little doors and eating the chocolate inside. Also, we don't recommend drinking a tiny bottle of gin before your morning commute. If you really want to combine Xmas and the gin craze, Christmas pudding gin is the way forward.
No longer is gin saved for the elderly or drinking when there's nothing left in the house and then seriously regretting it. As all these fancy gin bars pop up and charge you £10 for a double with a twig poking out of it, Christmas pudding gin is bound to start doing the rounds as winter sets it.
If anyone think that Christmas pudding gin is a little too out there, bear in mind that gin made from ants is a real thing and so is turkey gin for 25 December. Why not swap between turkey gin and Christmas pudding gin around the table?
You could leave Firebox's Christmas pudding gin out for Santa as an alternative for sherry, but we'd suggest saving it for yourself. Say goodbye to Gordon's and bin the Bombay, Christmas pudding gin is here to stay!